The Preserve boundaries coincides with the high water marks or 1857 historic meander lines of Lake Fields and Lake Long except for some areas that have been sold or transferred by the State of Louisiana. The
official state lands map
comprising the Preserve can be downloaded and viewed. In, addition, maps of the state lands surrounding Lake Fields and Lake Long are shown below.
Preserve boundaries (Lake Fields)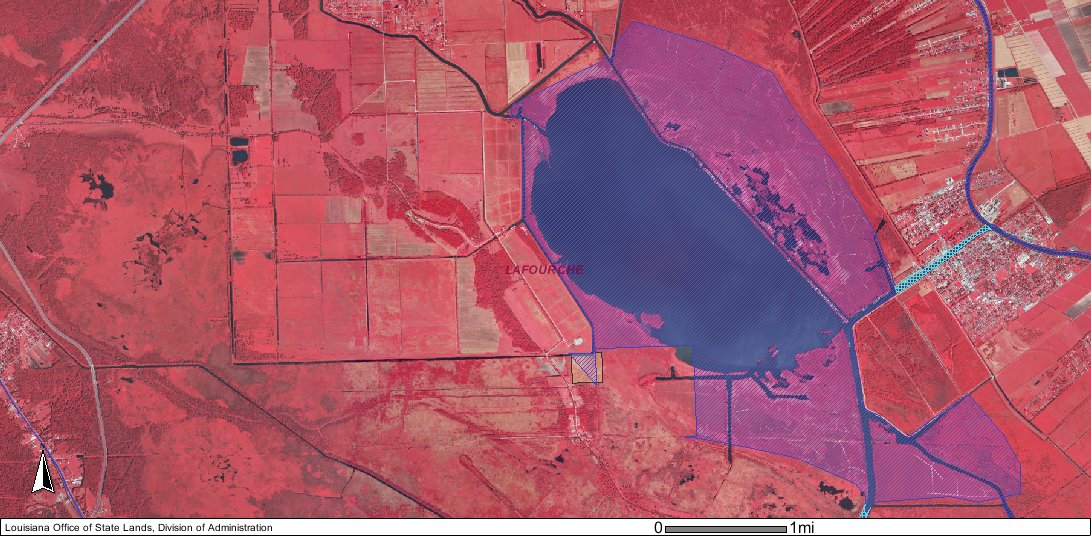 Preserve boundaries (Lake Long)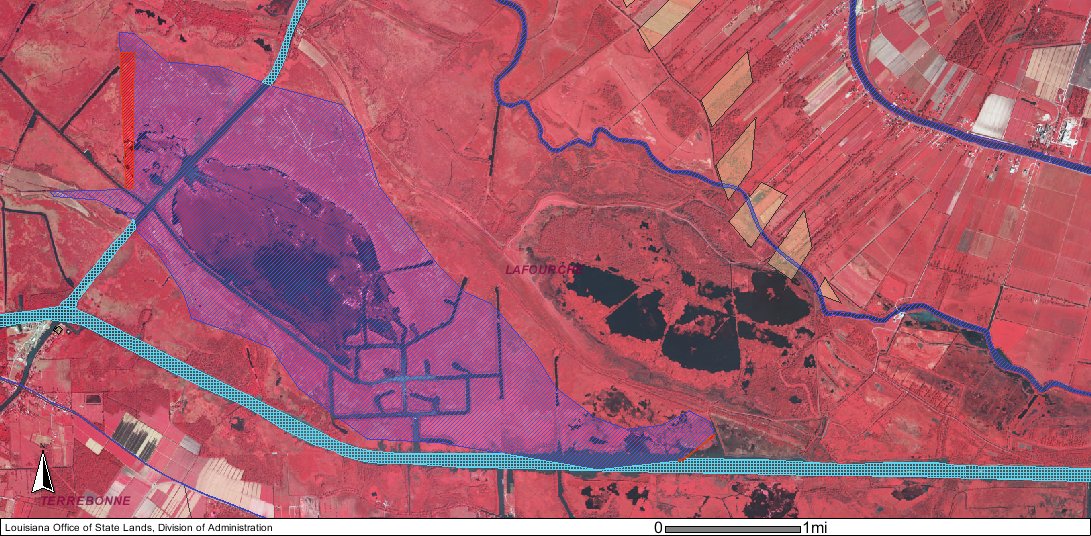 For more detail and flexibility, the Preserve boundaries may also be viewed online through the Louisiana Department of Natural Resource Offices
map viewer
of Louisiana. To view the Preserve with the state land boundaries, the following is recommended:
"zoom in" to the general area of Lake Fields/Lake Long
choose "2005 Coastal Louisiana" from the Imagery and Maps tab (other maps may be chosen but the 2005 aerial provides the best contrast with the "state-owned" waterbodies overlay
choose "state-owned water bodies" from the Reference Maps tab
The Preserve is situated in an inter-levee basin between the Bayou Lafourche natural ridge to the east and the Bayou Grand Coteau ridge to the west. The dominant features of the Preserve are Lake Fields and Lake Long. Water bodies around Lake Fields include Bayou Folse, Commercial Canal, Nolan Toups Canal, Bayou Dumar, Company Canal, and Little Lake while Company Canal, Hollywood Canal, and unnamed oil exploration canals border Lake Long. The remainder of the Preserve is primarily "flotant" fresh marsh characterized by shallow ponds, open marsh grass areas, and extensive wax myrtle thickets. Bottomland hardwoods occur primarily along canal spoil banks.
The Lake Fields and Lake Long watershed of 52,214 acres originates just south of Thibodaux. The area is sparsely populated except for the Bayou Lafourche corridor. The drainage basin is 38.7% agriculture/cropland/grassland, 20% fresh marsh, 18.4% wetland forests, 9.4% urban, and 8.5% water, with the remainder miscellaneous forests or wetlands.
Sources of freshwater for Lake Fields are from the Gulf Intracoastal Waterway and Bayou Lafourche via Company Canal and from the Bayou Folse watershed. Freshwater inflow into Lake Long originates from Company Canal, Hollywood Canal, and several oil exploration and canals. This inflow of freshwater, coupled with minimal daily tidal effects, generally produce year round freshwater conditions although periodic seasonal saltwater intrusion may occur from the south via Company Canal during periods of low rainfall and/or low Atchafalya River discharges.
The Preserve is open to the public at all times for recreation and other legal activities. Recreational opportunities available in the Preserve include sport fishing, hunting (deer, waterfowl, and rabbits), boating, bird watching, frogging, and camping. Access is primarily from public boat launches along Company Canal in Bourg (Texas Gulf Road) and Lockport (Canal Street) and the Butch Hill launch on Bayou Cut Off (Highway 652).
[HOME PAGE]